Holiday Inn, Toronto Bloor-Yorkville
Located downtown at Bloor and St.George, the Holiday Inn provides easy access to the subway, to the University of Toronto and, for the curious traveller, it is  near to the Royal Ontario Museum, Royal Conservatory of Music, Art Gallery of Ontario, Casa Loma, the Eaton Centre, and the Bata Shoe Museum. The image below shows the  10 minute walk from the Holiday Inn to Victoria College, as well as the surrounding University of Toronto Campus.
Reservation form (doc) or (pdf)

 Victoria College Residences
The Rowell Jackman and Upper Burwash residences available during the conference as accommodation are located at 85 and 89 Charles Street West respectively. Located on the University of Toronto's campus, these residences are steps away from Victoria College, the TTC, and a wide array of attractions. The map below, show the routes from the Rowell Jackman and Upper Burwash residences to Victoria College.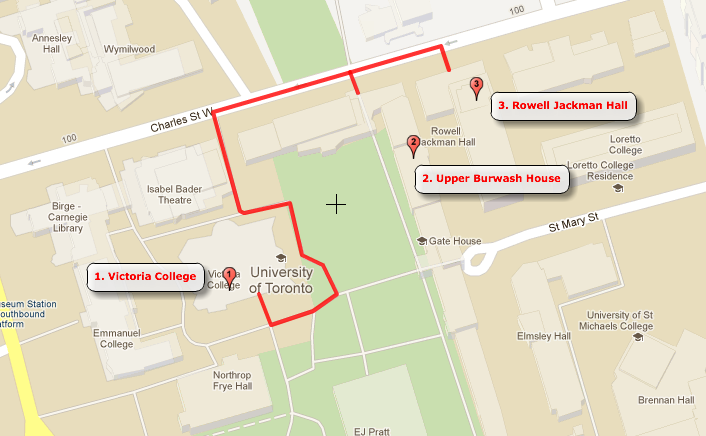 89 Chestnut
Alternate accommodation is available at 89 Chestnut. Located 1 mile (2km) or two subway stops from Victoria College, 89 Chestnut serves as a residence during the year, and hotel during the summer. 89 Chestnut is just steps from new and old city hall, the Eaton Centre, and a quick 20 minute walk through the University of Toronto campus will bring you to Victoria College. The map below, details the route.